Colorado was made for mountain biking! Colorful Colorado boasts thousands of miles of impressive trails across the state, from wide cruiser trails to hair-raising single tracks with steep and rocky terrain. Colorado is replete with excellent mountain biking trails, from mellow to extreme. Mountain biking is a perfect way to experience the great outdoors, and the rewards of picturesque scenery and heart-pounding excitement are well worth the workout.
From a few hours to a few days, there is no shortage of trails to explore in Colorado. For serious riders, many fantastic multi-day courses are renowned as being some of the best in the country. No matter where you live or where you are headed for vacation, chances are there will be some fantastic trails to ride. Here are some of the best spots around Colorado for summer mountain biking excitement!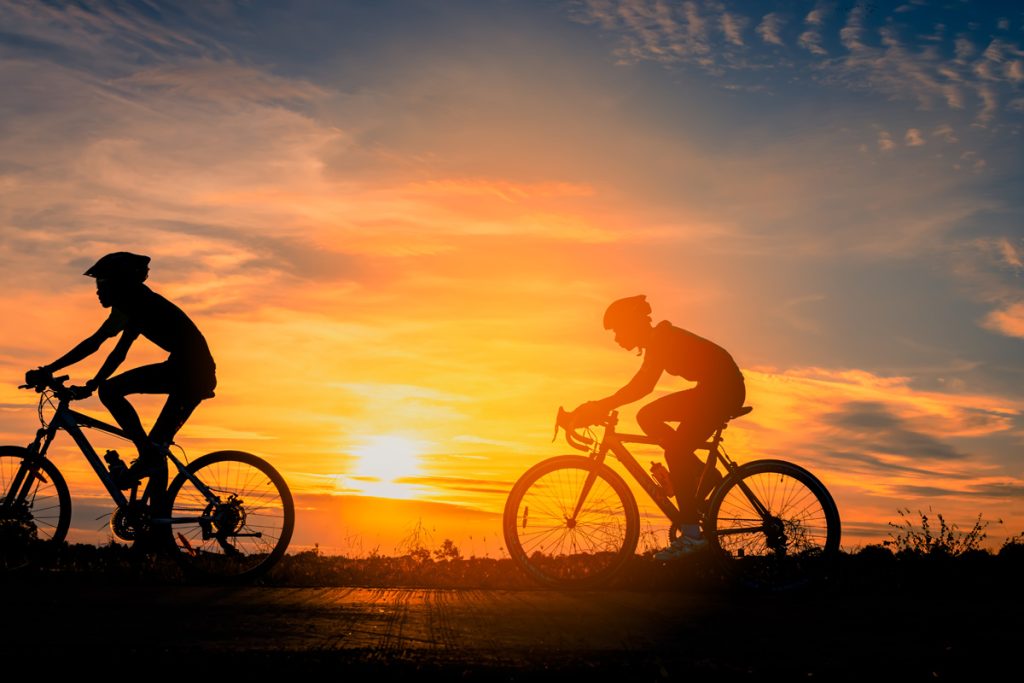 Denver
The Colorado Trail is primarily considered an advanced trail, and daring riders are rewarded with unbeatable views and spectacular scenery. The trail is perhaps the best bike-packing route in North America. It starts in the southwest Denver suburb of Littleton. You can choose from a wide array of bike rentals in Denver. The Colorado Trail is a 534-mile trip, with most of that being high alpine single track, stringing together the best trails and mountain ranges across Colorado.
Grand County
Winter Park is a local favorite for ski enthusiasts and mountain bikers alike. Winter Park's Trestle Bike Park houses the largest bike rental fleet in the U.S. and offers riders a downhill experience comparable to the exceptional skiing offered in the winter.
Granby Ranch in Grand County is a lesser-known family ski area about 30 minutes past Winter Park. In the summer months, mountain bikers can ride downhill bike parks or explore countless trails on their own.
Summit County
Copper Mountain, located just off I-70 before Vail Pass, offers downhill mountain biking off the same lifts that service their abundant ski runs. For a mere $20, mountain bikers can ride the lift to the top of the mountain and choose from various runs to ride back to the ski village.
Breckenridge, well-known for its ski culture and classic mountain town, allows riders of any skill level to explore the local trails in and around the ski resort. The resort offers lessons for those just beginning the sport, and the famous Colorado Trail winds directly through the resort.
Keystone Resort, another Summit County resort, has mountain bikes with the same difficulty levels as their famed ski runs. Riders can choose from Green, Blue, and Black runs to test their prowess on two wheels from top to bottom.
Eagle County
Vail may be one of the most recognized names in skiing within the U.S., but they are lesser-known for their extensive trails for mountain biking. Multiple lift options bring riders to the top of Vail resort, from where they can journey down to the base of the mountain. Beaver Creek, only a few miles west of Vail, also has lots of shred-worthy trails, from mild to wild.
Aspen
Government Trail near Aspen is a single track made of dirt and gravel with a trailhead elevation of 8,400 feet, and relaxed temperatures are more relaxed. The 19.7-mile-long trail takes roughly 2 to 4 hours to finish. Hiking, running, and dogs are all standard on this trail.
Snowmass
Snowmass Bike Park services nearly 3,000 vertical feet for every skill level of mountain biker. Located in Aspen, riders are not disappointed with the scenery surrounding them as they descend to the main village at Snowmass. (Snowmass riders can rent gear from shops on the Snowmass Mall or in nearby Aspen.)
Crested Butte
Crested Butte Mountain Resort's Evolution Bike Park contains terrain for nearly every level of mountain biking. Bike enthusiasts around the state consider it a must-ride for Colorado trails.
Doctor Park has fantastic views on lockdown. It is 14.2 miles in length, with light traffic. The trail begins with a 2,500 vertical-foot fire road and turns to a middle ring doubletrack to the trail's high point at 10,877 feet. Once you have successfully navigated to the bottom, you can cool off with a swim in the Taylor River.
Durango
Purgatory Resort near Durango offers riders a chance to explore the San Juan Mountains in southern Colorado. Divinity-Flow Trail is home to the first World Mountain Bike Championships.
Horse Gulch has a stunning single track, which is usually arid and hot in the summer. So, we recommend having enough water with you. Both beginners and pros can use this trail. Some of the featured tracks in Horse Gulch include Sugar, Telegraph, Snake Charmer, Raider Ridge, and Power Line, among others.
Salida
Situated outside Salida to the west of town, Monarch Crest is an easy ride with no big rocks to maneuver. After a quick ascend on a double track, you should remain on the singletrack. Here you find some rocks and roots that you must ride through.
Cortez
You can take an exciting network of flow trails at Phil's World in Cortez all year round. Cortz is a picture-perfect mountain town just west of Durango. There is no fee to access the 27 miles of trails situated on BLM land. You can ride 2,000 feet of vertical on the single track trails. The terrain is relatively flat, riding on the mesa tops and through canyons.
Telluride
Telluride Resort offers some of the best mountain scenery in the United States, and its Mountain Village Bike Park allows riders to ride a gondola to access expert mountain biking terrain descending into Mountain Village itself.
Steamboat Springs
Steamboat's Bike Park, located on little-known Highway 40, has expanded its mountain biking trails in past years. With over 2,000 feet in descent, mountain bikers are not disappointed with their riding options.
Grand Junction
Grand Junction's Lunch Loop is an incredible network. It is typically rated as challenging, though you'll find something for everyone from greens to blacks. Keep an eye out for tight corners. Some of them are blind. Trail runners also make sure of the Lunch Loop, appropriately named due to its convenient nature. Restrooms are on-site, and dogs are permitted.